Director:
Sarah Lantry-Schäfer
From: Born in California; lived in St. Louis/Missouri, USA
I was born in Southern California to an American father and a German mother. I moved to Germany in 2012 to get to know my German family and the experience of living somewhere new.
After completing a German language course, I finished my FSJ (voluntary year) at DAI in 2015. In summer 2017 I finished my "Ausbildung zur Erzieherin".
I truly enjoy working with children and feel that a kindergarten shapes the way children experience and approach the world significantly. I look forward to helping shape children's lives.
My hobbies are strength training, horseback riding, reading and watching movies.
---
Caregivers:
Paula Mathison-Wolff
From: Liverpool, England
I am a qualified early years practitioner. I gained my NNEB diploma in 1991. Since then, I have worked in private nurseries and the educational and social services sector in the UK, managing a private Kindergarten and Head of up to three years olds in an Early Excellence Centre. I then went on to study and achieved my HNC in Early Childhood studies. I moved to Germany in 2003 with my now husband. During this time I worked in a kindergarten in Hamburg and in 2004 we moved to the Heidelberg region where I worked in a bilingual kindergarten. I've been with the DAI Altstadt Kindergarten since 2013. In my freetime I like spending time with my family, travelling and reading.
---
Colette Yvonne Ultes
From: U.S.A., San Diego, California. I grew up in America and Europe (Spain, Italy, and Germany) with an American father and German mother.
While my own three children were young, I worked as an English teacher for children aged 3-9 years at the Abrakadabra Language School. Wanting to learn more about the remarkable journey of childhood, I decided to study pedagogics at "Helen-Keller-Fachschule für Sozialpädagogik" in Weinheim. After obtaining my Early Childhood Degree, I worked in different kindergartens in the Mannheim/Heidelberg area as a "Bilingual Kindergarten Teacher". I have been working with the DAI since 2013.
Kids allow me to access my uninhibited, silly and imaginative side and give me the opportunity to spread positive lessons and gain insight on things from a totally new and awesome perspective.
In my free time, I enjoy biking, hiking, running and traveling.
---
Mark F. Butler
From: Oakland/California, USA
I have worked for the U.S. Army, Child, Youth and School Services (CYSS) in Heidelberg for 20 years. I have gathered a wide range of experience working with children, including holding positions as a Preschool Teacher and Lead Kindergarten teacher at two CYSS child Development Centers (CDC). In addition, I have worked as an Art Instructor and Lead Teacher at the CYSS School Age Center (SAC) with children in grades one to five. The highlight of my career and training is holding a Child Development Associate (CDA) Credential in the Preschool setting. I've been with the DAI Altstadt Kindergarten since 2012.
---
Aisleen McGivern
From: Belfast, Northern Ireland
Hi, my name is Aisleen! I was born in Northern Ireland and grew up in the lovely city of Belfast. After leaving school, I completed a Diploma in Childcare and Education, where I soon discovered my passion for working with children. I decided to continue my education and completed a Degree in Early Childhood studies. Equipped with lots of newfound knowledge, I then worked in a range of primary schools, nurseries, and day cares with children aged 1-18 years.
The 'learning bug' struck once again and I returned to university to complete a Degree in Social Work. I became a social worker for expectant mothers in a maternity hospital and for children with disabilities. This was a highly rewarding job and a real privilege to work with children and families in need.
I moved to Heidelberg in 2016 and have had the most wonderful time working at the DAI. The number of teachers, parents and children I have met from all over the world has been truly amazing. My classroom philosophy is kindness, respect and good manners…..as the saying goes 'Manners go a long way.'
When I am not in Kindergarten, you can find me travelling around Europe….usually on my bicycle, because it doesn't rain half as much in Germany as it does in Ireland.
---
Pia Marie Steiner
From: Oslo, Norway
Hi, my name is Pia. I was born and raised in beautiful Oslo, Norway, the oldest of two sisters. Having grown up in a very musical family I chose a High School with a music program, with singing as my main instrument. Afterwards, I did a year of creative writing at a Folk high school (folkehøgskole).
In 2010, I started my Bachelor´s degree in Special Needs Education at the University of Oslo. During my studies I did various internships, volunteer work as homework supporter for refugee children, and worked part time in an after school program with children aged 5-10. I soon discovered a special passion for helping children with social and emotional difficulties which I chose to specialize in for my Master´s degree. I wrote my thesis about highly sensitive children – another topic close to my heart. In 2015, I moved to Mannheim with my German boyfriend, where I have lived since.
My classroom philosophy evolves around supporting children in their discovery and development of who they are. I am passionate about encouraging independence and curiosity, as well as development of social and emotional intelligence. Children need to know that all feelings are OK, and then develop tools to handle them.
In my free time, I enjoy singing, playing piano and ukulele, knitting, puzzling and generally being crafty. I am also very interested in languages and traveling.
---
Michaela Shim
From: Vancouver, Canada
While attending post-secondary, I worked and volunteered in many care centers, preschools, and classrooms. After completing my BA in Education and French at Simon Fraser University, I worked as a replacement teacher in various schools. There, I would teach students from between the ages of 5 and 18. A couple years later, I became certified as an Early Childhood Educator and moved to Germany shortly after.
Formally educated in the Reggio Emilia approach and emergent curriculum practice, I strive to create a rich environment for children to learn and explore freely. I am also a huge advocate for positive reinforcement, as I believe children learn best when feeling successful. Through this, I hope they will learn to respect others and themselves.
I have been very lucky to have many opportunities to work in this field. Working with children has always been what I have loved doing most and I am very happy to have the chance to work with others who share the same passion as me.
Also, if you are wondering, my name is pronounced Mi-Keï-La… Or simply call me Mick.
---
Conny Oxios
From: Pfalz, Germany
I was born and raised in Germany and was married to an American for 21 years with whom I have five children.
I have been taking care of children since the age of 16. In 1991, my family moved to Texas for three years, where I worked as a day-care mother for three children, while also taking care of my own two children at the time.
In 2014, I went back to the Mannheimer Akademie für soziale Berufe and recently obtained a degree as a certified Kinderpflegerin (nursery teacher).
I love working with children to help them expand all of their skills. It is important to me that the children feel secure and safe, their wellbeing is my number one priority. Seeing a child happy and smiling is the greatest reward for my work.
---
From: Greenville/South Carolina, USA
Hi! My name is Ellie and I was born and raised in Greenville, South Carolina in the US.  Growing up I loved spending time outside, especially with my grandmother on our family farm. As a teenager and young adult, I gained experience with children both as a babysitter and as a full-time nanny.  In 2016, I graduated from Furman University with a Bachelor of Arts degree.  During my time in college, I lived in Germany for one month while completing an internship and I knew I wanted to come back.
In 2017, I began teaching English as a Foreign Language and the next year obtained my teaching certification for English as a Second Language. In August 2018, I moved to Heidelberg and in April 2019, I joined the DAI.  I believe in having a student-centered classroom where children can have a voice in their learning.  Additionally, each child is unique and should have an opportunity to bring his or her experiences and ideas into the classroom as well as accept and appreciate the differences of others.
Outside of Kindergarten, I love reading and spending time outdoors. In both high school and college, I was a track and field athlete and therefore being active and staying fit is part of who I am.  While I still enjoy running, now you are more likely to find me hiking, lifting weights, or taking a spin class. I also enjoy traveling around Europe and as well exploring the area around Heidelberg.
---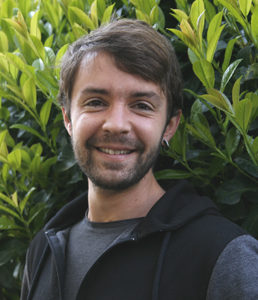 Travis Van Horn
From: Arizona and New Mexico, USA
I was born in Würzburg, Germany, to American parents. However, I was raised in Arizona and New Mexico.
After graduating high school, I went and studied in the USA, UK, France, and Germany. In 2015, I graduated with a degree in diplomacy and international relations from the University of Oregon and have been trained in educational development. I have multiple years of training and experience of working in school districts in the United States, France and Germany. Once I completed my studies, I moved to Indonesia with my wife to serve as a teacher and teacher trainer in Sagaranten, West Java, with the Peace Corps. Upon finishing my contract, my wife and I moved to Heidelberg to pursue our Master's degrees. I joined the DAI family in 2019 and I am proud to call the Kindergartens home. As an educator, I aim to inspire my students to open their minds, explore their world, and celebrate who they are.
---
I am from the UK and grew up in London. I wanted to be a teacher from a young age and gained a bachelor's degree in Primary Education in 2009. I have taught in various schools over the last ten years with children aged from four to nine years. I always enjoyed teaching young children as they have such awe and wonder of the world. The children's interests and passions lead my teaching. I aim to instill a love of learning in every child in the class through creative teaching in a safe and welcoming environment. My family had the opportunity to move to Germany in 2018 and we were thrilled to take the opportunity to experience a different culture and language.
I love taking day trips with my husband and children and spending time outdoors. I have a passion for reading and belong to a local book club. I am enjoying exploring Heidelberg and discovering all that it has to offer.
---
Amber Auer
From: Erie, Pennsylvania, USA
I was born in Erie, Pennsylvania, but have done quite a lot of moving around, both in the United States and in Germany. I decided to move to Germany after graduating high school and have been here ever since! I first began working with children in the United States, where I worked in a Day Care center for four years. After spending one year as an Au Pair and English teacher in Lüneburg, I decided to move back to Heidelberg and begin learning German. I have been working at the DAI Language School since early 2015 and have been one of the go-to "FerienCamp" (holiday camp) teachers, alongside with teaching several classes to children aged three to sixteen, and even for the Abitur. I want to continue improving my teaching skills by regularly taking part in seminars and courses, like the TEFL Certification, which guided me in teaching new and interesting ways of learning English as a Second Language.
It's very important for me that I incorporate both learning and excitement into my lesson plans for the children, while also helping them grow to be kind and thoughtful.
In my very little free time, I enjoys reading books by my favorite authors Chimamanda Ngozi Adichie and David Sedaris, traveling to or with my three sisters, who also live in Europe, and trying out new recipes for those with a sweet tooth and savory one.
---
Sandra Krebs
Hi, my name is Sandra. I was born and raised in Denmark to a Danish mother and a German father. Growing up I was the youngest of two siblings in a household where outdoor activities, sports and creativity always have been a high priority. After High School, I worked in a kindergarten as a teacher's assistant and continued as a substitute while in University. The last year of University, I worked as an ABA (Applied behaviour analysis) help trainer for a child with infantile autism. I have a Bachelor degree in Logaoedics and a Master's degree in Audiologopedics from the University of Southern Denmark. After I finished my education, I worked four years as a speech and hearing therapist at the Children and Youth Administration in the municipality of Copenhagen, Denmark. I was part of a multidisciplinary team and covered 11 Kindergartens and one primary school. I love to work with children and to do what I can to support their development and wellbeing. For new adventures, my partner and I moved to Heidelberg, Germany in January 2019. I'm very pleased to be part of the team at the DAI Altstadt Kindergarten. My classroom philosophy is to create a positive and a child interest based environment that supports the development and wellbeing of the children. When I am not in the classroom, you might find me traveling with my backpack across the world discovering different cultures and nature. I love to hike and other hobbies are running, fitness training and to get lost in drawing/ painting.
---
Delia Huata
I was born and grew up in a small city called Sibiu ( Hermannstadt is the German name), from Transylvania, Romania. I graduated from University of Foreign Languages, History and Journalism and I have a Master Diploma in English. I have been working as a teacher for almost 20 years in my homeland, Dubai and Germany, teaching Romanian, English and German.I believe that my strongest teaching skills are passion and patience and the confidence that I build in my students. I like to spend my free time with my 11 year old son, reading, watching movies.
---
On maternity leave:
Seda Karabayir-Grathwol
From: Istanbul, Turkey
I was born in Istanbul. I started learning English at an early age, and throughout my education, I went to English speaking schools. I have lived, studied and worked in four countries: Turkey, USA, New Zealand and Germany. I obtained my MA degree in English Studies at Heidelberg University, and gained work experience in a variety of fields, including education, tourism and government.
Amongst my past responsibilities, I value my work as a teacher the most. I planned and taught classes of international students, aged between 2 to 5. I was also responsible for tracking the development of students and ensuring that educational and personal goals were achieved all students.
Once in Germany, I continued practicing teaching as a freelance English teacher. I have done Summer/Easter Camps with DAI children. I am very happy to be part of the DAI family once again.
I like to learn about physics, astronomy, biology and chemistry. It is because of my keen interest in science, I enjoy incorporating scientific topics/experiments into my teaching.
---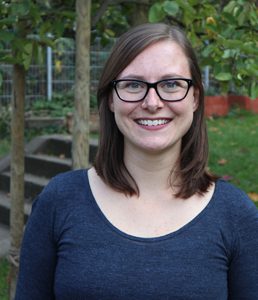 Becky Stutte
From: Missouri, USA
I am originally from the state of Missouri in the U.S. but have been living in Germany with my husband and daughter since 2016. Prior to that, I spent three years in Taiwan where I taught English to children aged three to 15 years, as well as adults. I have spent a year and a half working at a Kita here in Heidelberg teaching English through games and activities. I am passionate about creating individual and interactive learning experiences that benefit both the children and the teachers!
---