Directors:
Jamie Kurt
From: Heidelberg, Germany
I was born and raised in Germany, in a German-American family and spent three years of my childhood in the USA.
I've been working in the DAI Kindergarten since September of 2007, and I am one of the teachers that helped to build up the Kindergarten from the very beginning.
I am a fully qualified and educated teacher, and continue to build upon my qualifications by participating in professional development courses and seminars. I have an extra degree for children from 0-3 years old.
I have a passion for working with children and love and enjoy the fun and laughter that children give us every day.
I am teaming up with Sarah Lantry-Schäfer to lead the DAI International Kindergarten.
---
Sarah Lantry-Schäfer
From: Born in California; lived in St. Louis/Missouri, USA
I was born in Southern California to an American father and a German mother. I moved to Germany in 2012 to get to know my German family and the experience of living somewhere new.
After completing a German language course, I finished my FSJ (voluntary year) at DAI in 2015. In summer 2017 I finished my "Ausbildung zur Erzieherin".
I truly enjoy working with children and feel that a kindergarten shapes the way children experience and approach the world significantly. I look forward to helping shape children's lives.
My hobbies are strength training, horseback riding, reading and watching movies.
I am teaming up with Jamie Kurt to lead the DAI International Kindergarten.
---
MitarbeiterInnen:
Theresia Wernher
From: Tauberbischofsheim, Germany
I am a fully trained kindergarten teacher and completed my early year childhood studies in 2008. After graduation, I spent a year in the South of England to work as an au pair while attending Kingston College.
After travelling in the USA, I joined the DAI Kindergarten in 2010. I have gained experience working with different age groups while leading the nursery and the three and four year old group.
I used to train children in my sports club and loved to give them the possibility to let out their energy in a fun way. I love being a part of a team that create a warm and cozy atmosphere for the children where they feel free to explore the wonders of the world, a second home away from home.
I enjoy art and music and like to give the children the chance to be creative and express themselves. During my free time I like to spend time with my friends, read, draw, sing in a choir and travel.
---
Ruth Skoczylis
From: Heidelberg, Germany
I was raised by a British father and German mother and spent my childhood growing up in Schönau, a small town outside of Heidelberg.
I moved to England after graduating high school, where I completed my studies in Early Childhood Education. I've been working for the DAI Kindergarten since 2010.
My passion for working with children developed early due to coming from a large family with many younger siblings.
I enjoy travelling and being outside exploring the world, which I love to express to the children and take them on many journeys around Heidelberg.
In my free time I like to be active and spend time with my family and friends.
---
Jason Washington
From: Philadelphia/Pennsylvania, USA
I was born in the '80s, and spent my first 27 years of my life in the USA. I studied Child Psychology and am a qualified "Tagesmutter" and also a Fachkraft for DAI Kindergarten where I've been working since 2010.
In my free time, I enjoy walking, reading, and playing frisbee. I am goofy and energetic at the kindergarten, and work hard to get the children to become better, stronger individuals.
---
Katja Rauch
From: Heppenheim, Germany
I joined the DAI Kindergarten in the summer of 2013 right after graduating from the University of Frankfurt where I studied Educational Science (Erziehungswissenschaften/Bachelor of Arts).
Before I went to university, I became a European Secretary (staatlich anerkannte Europasekretärin) with the languages English, Spanish and French. I then worked abroad as an entertainer for children at a hotel and gained work experience at a law office where I was responsible for English correspondence for several years.
During my studies I completed a university project where I taught English for children with immigrant backgrounds at an "Integrative Gesamtschule" in Frankfurt. I continue to improve my teaching skills by participating in professional seminars about creativity, theatre pedagogy and child psychology.
I very much enjoy the warm and open atmosphere of this Kindergarten and the happy hearts of children. In my free time I like to learn about culture and arts, practice Yoga and sew with friends.
---
Jeanne Johnson-Erne

From: Marin County/California, USA
I have an extensive background working with children teaching gymnastics, rhythm and music, and storytelling, and am currently studying part time at the University of Heidelberg to complete my degree in Educational Science (Erziehungswissenschaften/Bachelor of Arts).
I've been with the DAI Kindergarten since 2014 and like to share my love of different cultures with our children.
I love the outdoors and my hobbies include backpacking, rock climbing, and gardening.
---
Sam Lindley
From: San Francisco/California, USA
I grew up in the Bay Area outside of San Francisco. I then moved to Chico/California where I obtained a degree in Humanities and worked in elementary schools, primarily with first graders. I started working for the DAI in 2015.
In my free time I enjoy reading and being outdoors. My passions include gardening, hiking, kayaking, working with kids and traveling.
---
Klaudia Nozka
From: Lublin, Poland
I grew up in Poland and moved to London, UK, with my family when I was 13 years old. After finishing secondary school, I went to college at NVQ childcare workforce apprenticeship level 2. I worked at the nursery for 13 months with children at of 8 month till 4 years old.
I have always loved playing with younger children. I have 3 siblings. Their smile, curiosity and imagination have always made my day.
I moved to Germany in December 2016 and started working at the DAI in January 2017. I am looking forward to getting to know the language as well as the city and new people.
I am a determined, confident and open person. In my free time I love to read books, sing and roller skate.
---
Amber Auer
From: Erie/Pennsylvania, USA
I was born in Pennsylvania, but have done quite a lot of moving around, both in the United States and in Germany.
In the US I worked in a Day Care Center for three years. Before starting at the DAI Kindergarten in early 2017, I have also been working at the DAI Language School for two years, teaching several classes to children aged from three to thirteen. I continue to improve my teaching skills by regularly taking part in seminars and courses. It's very important for me to incorporate learning and fun into my plans for the children, while also helping them grow into the best they can possibly be.
In my very little free time, I enjoy reading books by my favorite authors Chimamanda Ngozi Adichie and David Sedaris, traveling to or with my three sisters, who also live in Europe, and trying out new recipes for those with a sweet tooth and savory one.
---
Alvino Johnson
From: Shreveport/Louisiana, USA
I'm originally from Louisiana, but spent many years living in New York City working as a TV commercial actor and pre-school teacher.
Once my wife gave birth to our daughter I decided to become a stay at home dad for almost 3 years. During this time I really enjoyed building a strong bond with my daughter.
I'm honestly overjoyed with the work and fun I have here at DAI where I started working in early 2017. I'm very excited about being with a like-minded group who take pride in what they do. I'm working on my Bachelors of Science in Educational Studies.
During my free time I enjoy listening to jazz, camping and ice cream with the family.
---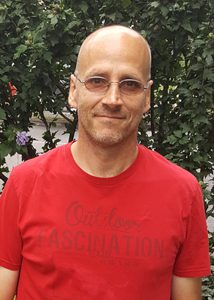 Ernie Green
From: Fouke/Arkansas, USA
I was stationed in Kaiserslautern with the US Air Force in 1989 when I met my future wife, who is German. We lived and worked in Florida and Texas for the first five years of our marriage and had three wonderful children. After I finished my associates degree in Texas in 1996 we decided to move to Germany where I became a stay-at-home dad.
When the kids were older, I went back to college and studied music in Frankfurt. Now I am a guitar instructor with two music schools and work during the school vacations with the DAI. In September 2017 I joined the DAI Kindergarten in Neuenheim, where I teach music.
---
Elaine Seery
From: Heidelberg, Germany
After several years working in sales and gastronomy I realized that this job doesn't make me happy. Kids have always fascinated me and I realized my path had to change. In 2009 my parents moved to Bristol, UK, but I couldn't leave beautiful Heidelberg behind.
I visit my parents regularly and fell in love with Britain as well.
Originally I am half Greek and half Turkish. It was a bliss when I applied at the DAI and had the opportunity to reassure my dream on becoming a kindergarten teacher and begin with a FSJ (voluntary year).
I would like to be able to be a role model and also learn from the kids. My goal is to nourish the kids with important values such as love, joy, strength, kindness and respect.
In my spare time I like to cycle, read and do yoga. I am interested in music, film, art and I am always happy to learn new things.
I am grateful to spend the time in the perfect environment with kids from all around the world and seeing them grow and develop.
---
Katharina Schyschka
From: Born in Katowice, Poland; grown up in Berlin
My Family and I moved to Berlin when I was three years old. That's where I became a fully trained "Erzieherin" in 2005. After graduation I went to Minnesota where I worked as an au pair.
Back in Germany I worked in preschools with children ages 0-6. After moving to Rheinland-Pfalz I worked in a children's home for 3,5 years. During that tie I decided to spend another year abroad and moved to Chicago where I worked in a preschool with children 3 to 5 years of age.
After returning to Germany I wanted to combine my two passions: working with children and the English language. That's why started at DAI in August 2017.
I am looking forward to help the children develop their individual personality and support them in becoming a self-dependent, social and well-adjusted little person.
---
Benjamin Nagel
From: Columbus, Ohio, USA
My name is Benjamin Nagel, but most people call me Ben! Even though my name is very German, I'm actually an American from Columbus, Ohio. Our family is quite large- I am the oldest of 6 children and I was 15 when my youngest sister was born, so I've always been around young children. I first came to Heidelberg in 2014 in order to get my M.A. degree at the University. After finishing my studies, I loved Heidelberg so much that I decided to stay! In 2015, I started working at the DAI Sprachschule, where I taught the Mini OWLS groups, as well as led the music circle at another local kindergarten. In my free time I enjoy playing my ukulele, folding origami, and taking trips to other countries. I am really excited to join the DAI Kindergarten, and getting to know your children and all of you better!
---
On maternity leave:
Elif Köllhofer
From: Heidelberg, Germany
I've been working as a teacher at "Regent" language school in Cambridge, UK, before studying Nutritional Science and Horticulture in Bonn.
Additionally, I am a qualified "Tagesmutter" and now I try to combine nutrition with education for a healthy everyday life. I believe that nature, body and mind awareness combined with the curiosity and instinct of the children gives new and positive perspectives to children and grownups every day. In the DAI Kindergarten where I started working in 2013 I am in charge of the children's "Abenteuer Essen" program. Since I have also become a qualified Children's Yoga Instructor I share this joy with the kids in the Yoga Club.
I have always loved an international und multicultural atmosphere as well as travelling the world (Asia, Australia, New Zealand…).
---
Dirk Pahlke
From: Heidelberg, Germany
I first joined the DAI Kindergarten in 2008 for a 4-month internship. During that time I developed a love for working with children and the English language. After the internship I went back to studying and completed my education as a qualified Kindergarten Teacher.
I was very happy to be back at the Kindergarten in January 2014.
In my free time I like rock climbing, mountain biking and listening to and playing music.
---