ErzieherInnen Standort Neuenheim
Leiterin:
Sarah Lantry-Schäfer
From: Born in California; lived in St. Louis/Missouri, USA
I was born in Southern California to an American father and a German mother. I moved to Germany in 2012 to get to know my German family and the experience of living somewhere new.
After completing a German language course, I finished my FSJ (voluntary year) at DAI in 2015. In summer 2017 I finished my "Ausbildung zur Erzieherin".
I truly enjoy working with children and feel that a kindergarten shapes the way children experience and approach the world significantly. I look forward to helping shape children's lives.
My hobbies are strength training, horseback riding, reading and watching movies.
---
MitarbeiterInnen:
Belinda Fischer
From: New Plymouth, New Zealand
I grew up in New Zealand where I obtained a Bachelor of Communication studies. After university I moved to Dubai, United Arab Emirates. I completed my Post Graduate Certificate in Education whilst living in Dubai and I have several years work experience as a primary school teacher.
Before moving to Heidelberg with my German husband in July 2012 I was working as a class teacher in an international private school where I taught Year Three and Four and most recently Year One.
I began working at the DAI Altstadt kindergarten in 2013 and enjoyed working with the ABC group there. I have been on maternity leave since 2015 and am a proud mum of Liam (2015) and Clara (2017). In 2018 I started working at the DAI kindergarten in Neuenheim.
---
Jamie Kurt
From: Heidelberg, Germany
I was born and raised in Germany, in a German-American family and spent three years of my childhood in the USA.
I've been working in the DAI Kindergarten since September of 2007, and I am one of the teachers that helped to build up the Kindergarten from the very beginning.
I am a fully qualified and educated teacher, and continue to build upon my qualifications by participating in professional development courses and seminars. I have an extra degree for children from 0-3 years old.
I have a passion for working with children and love and enjoy the fun and laughter that children give us every day.
I am teaming up with Sarah Lantry-Schäfer to lead the DAI International Kindergarten.
---
Theresia Wernher
From: Tauberbischofsheim, Germany
I am a fully trained kindergarten teacher and completed my early year childhood studies in 2008. After graduation, I spent a year in the South of England to work as an au pair while attending Kingston College.
After travelling in the USA, I joined the DAI Kindergarten in 2010. I have gained experience working with different age groups while leading the nursery and the three and four year old group.
I used to train children in my sports club and loved to give them the possibility to let out their energy in a fun way. I love being a part of a team that create a warm and cozy atmosphere for the children where they feel free to explore the wonders of the world, a second home away from home.
I enjoy art and music and like to give the children the chance to be creative and express themselves. During my free time I like to spend time with my friends, read, draw, sing in a choir and travel.
---
Ruth Skoczylis
From: Heidelberg, Germany
I was raised by a British father and German mother and spent my childhood growing up in Schönau, a small town outside of Heidelberg.
I moved to England after graduating high school, where I completed my studies in Early Childhood Education. I've been working for the DAI Kindergarten since 2010.
My passion for working with children developed early due to coming from a large family with many younger siblings.
I enjoy travelling and being outside exploring the world, which I love to express to the children and take them on many journeys around Heidelberg.
In my free time I like to be active and spend time with my family and friends.
---
Jason Washington
From: Philadelphia/Pennsylvania, USA
I was born in the '80s, and spent my first 27 years of my life in the USA. I studied Child Psychology and am a qualified "Tagesmutter" and also a Fachkraft for DAI Kindergarten where I've been working since 2010.
In my free time, I enjoy walking, reading, and playing frisbee. I am goofy and energetic at the kindergarten, and work hard to get the children to become better, stronger individuals.
---
Caitlin Hines
From: Dallas/Texas, USA
I'm from Dallas, but I have been living overseas for almost 2 years now. I have an associates degree in Social Sciences and a Bachelor of Science degree in early childhood to 6th grade education from the University of North Texas. Working with young children is definitely nothing new to me. My experience is a little over 10 years, starting with little jobs such as babysitting, day care employee, substitute and tutor.
I worked for KUMON back home, which is a tutoring program that focuses on reading and math for children 5–18. I taught grade five, ages 10-11, in Coppell, TX. I realized I wasn't quite ready to go into my career, I wanted to see the world. I found a wonderful family in Australia and I was their Au Pair for one year, before I came here to Heidelberg.
Branching out into a foreign land is what I needed to gain more knowledge and experience of different learning and teaching strategies. I have learned a substantial amount of information in America, but I want to discover the unfamiliar. I have learned a great deal about children, education and had amazing college professors! I support each child as a unique individual, while guiding him/her toward their goals because nothing is more important to me than building confidence within young children. It is absolutely essential to instill an appreciation for knowledge as early as 2 years old, as well as guiding them in finding his/her self worth. It is amazing how much you can learn from one child, and I am excited to be working with the DAI to learn about children from all over the world.
---
Jeanne Johnson-Erne

From: Marin County/California, USA
I have an extensive background working with children teaching gymnastics, rhythm and music, and storytelling, and am currently studying part time at the University of Heidelberg to complete my degree in Educational Science (Erziehungswissenschaften/Bachelor of Arts).
I've been with the DAI Kindergarten since 2014 and like to share my love of different cultures with our children.
I love the outdoors and my hobbies include backpacking, rock climbing, and gardening.
---
Alvino Johnson
From: Shreveport/Louisiana, USA
I'm originally from Louisiana, but spent many years living in New York City working as a TV commercial actor and pre-school teacher.
Once my wife gave birth to our daughter I decided to become a stay at home dad for almost 3 years. During this time I really enjoyed building a strong bond with my daughter.
I'm honestly overjoyed with the work and fun I have here at DAI where I started working in early 2017. I'm very excited about being with a like-minded group who take pride in what they do. I'm working on my Bachelors of Science in Educational Studies.
During my free time I enjoy listening to jazz, camping and ice cream with the family.
---
Benjamin Nagel
From: Columbus/Ohio, USA
My name is Benjamin Nagel, but most people call me Ben. Even though my name is very German, I'm actually an American from Columbus, Ohio. Our family is quite large – I am the oldest of 6 children and I was 15 when my youngest sister was born, so I've always been around young children. I first came to Heidelberg in 2014 in order to get my M.A. degree at the University. After finishing my studies, I loved Heidelberg so much that I decided to stay. In 2015, I started working at the DAI language school, where I taught the Mini OWLS groups, as well as led the music circle at another local kindergarten. In my free time I enjoy playing my ukulele, folding origami, and taking trips to other countries. I am really excited to join the DAI Kindergarten, and getting to know your children and all of you better!
---
Sayre Scrimshaw-Hall
From: Boston/Massachusetts, USA
I studied anthropology in college, which included a semester abroad in Greece. These experiences made me want to travel more so after I graduated I decided to move to Spain to teach English.
I thought I would live in Madrid for a year to do some traveling, learn Spanish, and get some teaching experience, but I stayed for four years. During my time in Spain I also completed a master's degree in International Education.
I loved my time living in Madrid, but was ready for a new challenge. That's why I joined the DAI kindergarten team in 2018. I love working with kids and sharing my ideas with this great team of people at the DAI.
In my free time I like hiking, playing sports, and traveling.
---
Marina Maul
From: Black Forest Region, Germany
After my FSJ in a kindergarten for children with special needs and two semesters of studying English and Latin, I started studying Early Childhood Studies at the PH in Heidelberg, which I completed in 2017. I always wanted to experience living in a different country, so I went to Ireland as an au-pair and spent six months with a great family in the beautiful County Kerry.
As the eldest of three siblings, I have always been around younger children and really enjoying minding them. Working with children is an adventure for me, as it is amazing to observe how they learn and what ideas they come up with. It is important to me to help the children become independent and understanding people. I look forward to exploring the world with your children and working with you.
In my free time I enjoy spending time with family and friends, listening to music and singing along. My hobbies also include bouldering, yoga and working as a volunteer with children and young adults with special needs.
---
Kara Auer
From: Erie/Pennsylvania, USA
I was born in Pennsylvania, and later, for university, I moved to North Carolina. Between semesters, I kept busy through travel and au-pair work. After graduating from East Carolina University, I began working with children in classroom settings full-time.
Most of my childcare experience comes from my work as a kindergarten teacher. In 2014, I began working in Budapest, Hungary at a pre-school. In July 2018, I made the move to Heidelberg, to continue my work in the field of early childhood education.
I enjoy shaping the daily routines of our kindergarten children and working closely together with the teachers and families to create a warm and welcoming learning environment.
---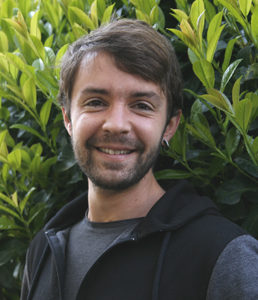 Travis Van Horn
From: Arizona and New Mexico, USA
I was born in Würzburg, Germany, to American parents. However, I was raised in Arizona and New Mexico.
After graduating high school, I went and studied in the USA, UK, France, and Germany. Once I completed my studies I moved to Indonesia with my wife to serve as a teacher and teacher trainer in Sagaranten, West Java, with the Peace Corps. Upon finishing my contract, my wife and I moved to Heidelberg to pursue our Master's degrees.
As an educator, I aim to inspire my students to open their minds, explore their world, and celebrate who they are.
---
Adam West
From: Dublin, Ireland
I come from a large family with three brothers and six sisters. My parents built our home in the beautiful Dublin Mountains, and I had a great childhood full of exploring and adventure with my siblings.
In 2013, I moved to Southern Japan and began working as an English Teacher in a wonderful city called Kagoshima. In 2014, I began working for Veritas International Kindergarten where I spent five years teaching children from 0–6 years of age.
I am excited to continue my journey and see the beauty and wonders that Germany has in store.
Teaching children to read and write has been one of the most rewarding and satisfying jobs I have ever had. I believe that imagination and curiosity are important in a child's development, and I want to foster a spirit of adventure in my class.
In my free time, I enjoy hiking, music (I sing all the time), and playing board games with friends.
---
Stephanie Saxton
From: Arizona and New Mexico, USA
Growing up in a military family, I had an opportunity to travel a lot. During my Bachelor's degree at the University of Valley Forge in Pennsylvania, I took every opportunity to travel. However, I always wanted to live in another country, learn another language and culture, and truly have an experience outside of the US and the US Army.
After graduating college with my Bachelors and teaching English in the states for three years I decided to finally follow my dreams. I moved to Germany in August 2015 as an Au Pair, and I knew I had found my home. I completed my Masters at the University of Heidelberg and then began working in a kindergarten in Mannheim in the 2–3 year old group.
I have experience working with children and teens with disabilities, working in a typical classroom setting, and working in Kindergarten; while I have enjoyed each of my jobs and experiences in education, I have realized how special Kindergarten is. Children in Kindergarten learn to become people, learn to foster friendship, and learn who they are. Here is where a foundation for life begins, and I hope to be a positive influence on the children at the DAI.
Apart from working with children, I also enjoy several hobbies such as reading, baking, and running, and sewing.
---
Musiklehrer:
Conor O'Brien
From: Springfield/Illinois, USA
I grew up in Springfield and moved to Oklahoma to study my passion, writing and performing music. In 2014 I spent 4 months learning German in Heidelberg, and when I went back to Oklahoma to finish my Bachelor's in Music Composition I knew that 4 months had not been enough. I came back to Heidelberg in the summer of 2015 excited to fully experience all that the language, culture and people have to offer.
Since the beginning of 2016 I have been working an internship with the DAI, teaching English Intensive Courses and leading English Language Holiday Camps for local children between the ages of 5 and 12. I've been with the DAI Kindergarten since summer 2016. During my studies I directed choirs and taught music lessons, and I look forward to encouraging children to follow all of their creative impulses, the same way that my family and my teachers supported me.
In my free time I like to read, play games, and play music with my friends here in the Heidelberg area. I also play Ultimate Frisbee with the Heidees, a club team sponsored by TVE Eppelheim.
---
Vertretungslehrerin:
Sophia Achee
From: Southern Florida, USA
I was born in Singapore to a German mother and an American father, but I grew up mainly in Florida. I also had the opportunity to live and work in Germany, Spain, New York City, France and India.
After graduating high school I moved to Granada, Spain to study Spanish and fell in love with the country and its culture. I returned to the U.S. a year later to start a degree in Nursing, but my nostalgia for Spain lingered on, and so I decided to spent the next three years in Barcelona. There I obtained certain teaching certificates, among them one to teach young learners. After two wonderful years of teaching I completed two years of a degree in Elementary Education back in Florida. I later moved back to Europe, where I taught English to children for two years in the Paris region. Before moving to Heidelberg I spent six months traveling in India. I've been with the DAI Kindergarten since 2014.
---
In Elternzeit:
Elif Köllhofer
From: Heidelberg, Germany
I've been working as a teacher at "Regent" language school in Cambridge, UK, before studying Nutritional Science and Horticulture in Bonn.
Additionally, I am a qualified "Tagesmutter" and now I try to combine nutrition with education for a healthy everyday life. I believe that nature, body and mind awareness combined with the curiosity and instinct of the children gives new and positive perspectives to children and grownups every day. In the DAI Kindergarten where I started working in 2013 I am in charge of the children's "Abenteuer Essen" program. Since I have also become a qualified Children's Yoga Instructor I share this joy with the kids in the Yoga Club.
I have always loved an international und multicultural atmosphere as well as travelling the world (Asia, Australia, New Zealand…).
---