ErzieherInnen Standort Altstadt
Leiterin:
Sarah Lantry-Schäfer
From: Born in California; lived in St. Louis/Missouri, USA
I was born in Southern California to an American father and a German mother. I moved to Germany in 2012 to get to know my German family and the experience of living somewhere new.
After completing a German language course, I finished my FSJ (voluntary year) at DAI in 2015. In summer 2017 I finished my "Ausbildung zur Erzieherin".
I truly enjoy working with children and feel that a kindergarten shapes the way children experience and approach the world significantly. I look forward to helping shape children's lives.
My hobbies are strength training, horseback riding, reading and watching movies.
---
MitarbeiterInnen:
Sam Lindley
From: San Francisco/California, USA
I grew up in the Bay Area outside of San Francisco. I then moved to Chico/California where I obtained a degree in Humanities and worked in elementary schools, primarily with first graders. I started working for the DAI in 2015.
In my free time I enjoy reading and being outdoors. My passions include gardening, hiking, kayaking, working with kids and traveling.
---
Colette Yvonne Ultes
From: San Diego/California, USA
I grew up in America and Europe (Spain, Germany and Italy) with a German mother and an American father.
I am a fully trained and educated kindergarten teacher. While my own three children were young, I worked as an English teacher for children aged between three and nine at the Abrakadabra Language School. Wanting to learn more about the remarkable journey of childhood, I decided to study pedagogics at the Helen Keller School in Weinheim. After obtaining my Early Childhood Degree, I worked in different kindergartens in the Heidelberg/Mannheim area as a "Bilingual Kindergarten Teacher".
I believe that learning is an emotional process as well as an intellectual one and that children need emotional support and encouragement. As a kindergarten teacher, I can support children engaged in learning activities individually and thus increase their emotional security, persistence and their independence.
---
Mark F. Butler
From: Oakland/California, USA
I have worked for the U.S. Army, Child, Youth and School Services (CYSS) in Heidelberg for 20 years. I have gathered a wide range of experience working with children, including holding positions as a Preschool Teacher and Lead Kindergarten teacher at two CYSS child Development Centers (CDC). In addition, I have worked as an Art Instructor and Lead Teacher at the CYSS School Age Center (SAC) with children in grades one to five. The highlight of my career and training is holding a Child Development Associate (CDA) Credential in the Preschool setting. I've been with the DAI Altstadt Kindergarten since 2012.
---
Paula Mathison-Wolff
From: Liverpool, England
I am a qualified early years practitioner. I gained my NNEB diploma in 1991. Since then, I have worked in private nurseries and the educational and social services sector in the UK, managing a private Kindergarten and Head of up to three years olds in an Early Excellence Centre. I then went on to study and achieved my HNC in Early Childhood studies. I moved to Germany in 2003 with my now husband. During this time I worked in a kindergarten in Hamburg and in 2004 we moved to the Heidelberg region where I worked in a bilingual kindergarten. I've been with the DAI Altstadt Kindergarten since 2013.
In my freetime I like spending time with my family, travelling and reading.
---
Nadine van Bekhoven
From: Roosendaal, The Netherlands
I grew up in a small city in the Netherlands where I obtained my Bachelor of Education. The Dutch embrace English on many levels from early childhood, therefore one could almost say that it's our second language.
During my studies, I chose to specialize myself in Drama, Music and English and did a minor in Physical Education. I taught children from the age of 4 to 12 years old, but my preference has always been young children. Their love, innocence, gratitude, imagination, happiness, curiosity and growth in a learning process is what fulfills me.
I've always dreamed of working in an International school, but never thought it would actually happen until I moved to Heidelberg. I'm enjoying living in this beautiful city and working in such a great place with so many different cultures to learn from! I've been with the DAI Altstadt Kindergarten since 2014.
Back in the Netherlands I used to play the piano, sing in a band, row and do strength training. As I feel like I have settled in now, I'm looking forward to start doing sports or music again in the near future.
---
From: Pretoria, South Africa
I grew up in both the city and in small towns in South Africa. South Africa is rich in culture and has lots to offer, including 11 national languages. Therefore, English is and will always be the main language for all, old and young to communicate. Like me, all children, no matter your mother tongue, have to learn and be able to speak English from a young age to build and develop their school and future careers.
I obtained my Bachelor in Education (B.Ed.) in Pretoria, South Africa. After I completed my studies I started off my career in London, UK, where I lived for one year. It was a wonderful experience where I had the opportunity to work with children ages 3 – 11. I taught various subjects including Language and Literacy to most of the youger groups. Some of my most precious memories was teaching in the Reception classes. When I returned to South Africa, I was thrilled to teach in both English and Afrikaans at a school for children with special needs in Pretoria. A few years later, a new journey here in Heidelberg (Germany) had began for me.
I have always preferred teaching and working with young children, therefore here at the DAI Kindergarten where I've been working since 2015 I am truly enjoying building into the lives and development of the young children. It has always been a passion of mine to help and guide children, even from a young age, build good foundations so they can enjoy their skills and talents as they grow up and discover new beginnings!
---
Aisleen McGivern
From: Belfast, Northern Ireland
I grew up in the city of Belfast in Northern Ireland, where I completed a Diploma in Children and Education. I soon discovered my passion for working with children and decided to further my learning by completing a degree in Early Childhood Studies. I thoroughly enjoyed learning about the psychology of child development and the importance of play for a child's social, emotional and physical development. I then spent four wonderful years working as an early year's practitioner in a range of Nursery schools, before completing a degree in Social Work. I spent a year as a social worker in a Maternity Hospital and felt very privileged to be working alongside children and their families who were in need. I have moved to Heidelberg and started working at the DAI Kindergarten in 2016 and as native English speaker, I am hoping to learn the German language and I am looking forward to explore this picturesque city.
---
Pia Marie Steiner
From: Oslo, Norway
I have lived in Oslo all of my life until I moved to Mannheim in January 2015. In Norway English is considered one of the most essential subjects, and is taught from an early age. The English language has therefore been integrated in my life since I was a little girl.
I obtained my Bachelor and Master in Special Needs Education at the University of Oslo. During my studies I did various internships and worked part time in an after school program with children age 5 – 10. I soon discovered a special passion for children with social and emotional difficulties, which I chose to specialize in for my Master's degree. I wrote my thesis about highly sensitive children, another topic close to my heart.
Singing, playing my ukulele, knitting and being crafty in general are my most beloved hobbies. I am so grateful to have found a job here in the DAI International Kindergarten, where I started working in 2016 and can enjoy teaching, learning and being creative with children from so many countries!
---
Michaela Shim
From: Vancouver, Canada
While attending post-secondary, I worked and volunteered in many care centers, preschools, and classrooms. After completing my BA in Education and French at Simon Fraser University, I worked as a replacement teacher in various schools. There, I would teach students from between the ages of 5 and 18. A couple years later, I became certified as an Early Childhood Educator and moved to Germany shortly after.
Formally educated in the Reggio Emilia approach and emergent curriculum practice, I strive to create a rich environment for children to learn and explore freely. I am also a huge advocate for positive reinforcement as I believe children learn best when feeling successful. Through this, I hope they will learn to respect others and themselves.
I have been very lucky to have had many opportunities to work in this field. Working with children has always been what I have loved doing most and I am very happy to have the chance to work with others who share the same passion as me.
Also, if you are wondering, my name is pronounced Mi-Keï-La… Or simply call me Mick.
---
Conny Payne
From: Pfalz, Germany
I was born and raised in Germany and was married to an American for 21 years with whom I have five children.
I have been taking care of children since the age of 16. In 1991, my family moved to Texas for three years, where I worked as a day-care mother for three children, while also taking care of my own two children at the time.
In 2014, I went back to the Mannheimer Akademie für soziale Berufe and recently obtained a degree as a certified Kinderpflegerin (nursery teacher).
I love working with children to help them expand all of their skills. It is important to me that the children feel secure and safe, their wellbeing is my number one priority. Seeing a child happy and smiling is the greatest reward for my work.
---
Julian Jakoby
From: Berschweiler/Rheinland-Pfalz, Germany
In 2017, I finished my training as a kindergarten teacher and in the last year of my training I worked in a primary school. During my training I gained hands-on experience through various internships, for example in kindergartens with different pedagogical concepts, as a social worker for a school or at different summer camps.
Since I was a teenager I have loved traveling and so I went on a trip around the world after I finished my training. Most of the time I spent in New Zealand (one year) and a few months in Australia. I like spending time with my friends, traveling, being outside and doing sports.
---
From: Greenville/South Carolina, USA
I was born and raised in Greenville, South Carolina, and moved to Heidelberg in August 2018. Since moving to Heidelberg, I have enjoyed experiencing a new culture and learning a new language. In 2016, I graduated from Furman University with a Bachelors Degree and in 2017, I obtained my teaching certification for English as a Foreign Language. I have years of experience working with children, beginning as a babysitter and tutor, and now as a teacher. For me, the most rewarding aspect of teaching is the relationships formed with your students – being able to empower children and see them succeed is absolutely wonderful.
---
Musiklehrer:
C
onor O'Brien
From: Springfield/Illinois, USA
I grew up in Springfield and moved to Oklahoma to study my passion, writing and performing music. In 2014 I spent 4 months learning German in Heidelberg, and when I went back to Oklahoma to finish my Bachelor's in Music Composition I knew that 4 months had not been enough. I came back to Heidelberg in the summer of 2015 excited to fully experience all that the language, culture and people have to offer.
Since the beginning of 2016 I have been working an internship with the DAI, teaching English Intensive Courses and leading English Language Holiday Camps for local children between the ages of 5 and 12. I've been with the DAI Kindergarten since summer 2016. During my studies I directed choirs and taught music lessons, and I look forward to encouraging children to follow all of their creative impulses, the same way that my family and my teachers supported me.
In my free time I like to read, play games, and play music with my friends here in the Heidelberg area. I also play Ultimate Frisbee with the Heidees, a club team sponsored by TVE Eppelheim.
---
In Elternzeit:
Seda Karabayir-Grathwol
From: Istanbul, Turkey
I was born in Istanbul. I started learning English at an early age, and throughout my education, I went to English speaking schools. I have lived, studied and worked in four countries: Turkey, USA, New Zealand and Germany. I obtained my MA degree in English Studies at Heidelberg University, and gained work experience in a variety of fields, including education, tourism and government.
Amongst my past responsibilities, I value my work as a teacher the most. I planned and taught classes of international students, aged between 2 to 5. I was also responsible for tracking the development of students and ensuring that educational and personal goals were achieved all students.
Once in Germany, I continued practicing teaching as a freelance English teacher. I have done Summer/Easter Camps with DAI children. I am very happy to be part of the DAI family once again.
I like to learn about physics, astronomy, biology and chemistry. It is because of my keen interest in science, I enjoy incorporating scientific topics/experiments into my teaching.
---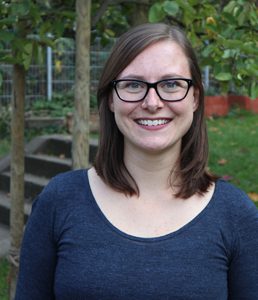 Becky Stutte
From: Missouri, USA
I am originally from the state of Missouri in the U.S. but have been living in Germany with my husband and daughter since 2016. Prior to that, I spent three years in Taiwan where I taught English to children aged three to 15 years, as well as adults. I have spent a year and a half working at a Kita here in Heidelberg teaching English through games and activities. I am passionate about creating individual and interactive learning experiences that benefit both the children and the teachers!
---